Happy anniversary to these 14 amazing wilderness areas
Okefenokee National Wildlife Refuge, almost all of which is designated as wilderness.
Credit:: Joy Campbell (Okefenokee Adventures) via USFWS, flickr.
Ever since the Wilderness Act was passed in 1964, October has been a big month for protecting public land: out of 758 wilderness areas, more than 200 have been designated during October. Here are some of the spots celebrating anniversaries this month.
Barely one month removed from the 50th anniversary of the Wilderness Act's signing, it bears repeating that 1964, though momentous, was just the beginning of the movement to save our nation's wildest places Hundreds of wilderness areas have been protected in the years since, from coast to coast, including some of the most indelible, irreplaceable public lands on earth.
Check out these 14 great wilderness areas, among the hundreds designated in Octobers past. From Arizona's Petrified Forest National Wilderness Area (1970) to Oregon's Steens Mountain Wilderness (2000), each is a quintessential piece of our wild heritage.
---
Badlands Wilderness (South Dakota)
Established 10/20/1976
Credit: Loyd Griswald via Wilderness.net.
Taking up about 64,000 acres of Badlands National Park, this stretch of mixed-grass prairie is renowned for its unusual topography of buttes, canyons, cliffs and rocky pinnacles. However, it is far from a barren wasteland; some of America's most iconic wildlife species call the wilderness and surrounding park home, including bison, bighorn sheep, pronghorn, golden eagles and prairie dogs.
---
Black Canyon of the Gunnison Wilderness (Colorado)
Established 10/20/1976
Credit: Damian Manda, flickr.
The canyon that gives this wilderness its name is appropriately dark, measuring just 40 feet across in some spots, where it shuts out most sunlight. This feature hasn't prevented it from becoming a popular destination for rock climbers in search of a serious challenge on its sheer, craggy cliffs (beginners need not apply). It is also a hot spot for hikers, campers and especially determined anglers who want to get close to the Gunnison River (and its plentiful supply of trout). Indigenous species in the park, which is largely protected as wilderness, include mule deer, elk, bobcats and bald eagles.
---
Congaree National Park Wilderness (South Carolina)
Established 10/24/1988
Credit: Miguel Vieira, flickr.
Congaree National Park Wilderness is a rare wild gem in the eastern U.S., where centuries of development have left few untouched spots open for public use. Not so here: about 90 species of tree, including sweet gum, hickory, elm and sycamore, grow in the park, most of which is wilderness, attaining sizes not found elsewhere in the region due to unusually silt-rich soil. The river floodplain ecosystem harbors a bevy of animal life ranging from owls to river otters.
---
Craters of the Moon National Wilderness Area (Idaho)
Established 10/23/1970
Credit: Craters of the Moon National Monument & Preserve, flickr.
Craters of the Moon Wilderness resembles a pockmarked lunar landscape because ancient volcanic eruptions blanketed the area in lava, now hardened and scattered with cinder cones and sagebrush. Indeed, the broader national monument of the same name was used as a training site for lunar-bound 1960s astronauts. Despite this bare, otherworldly appearance, fauna include ground squirrels, bats, mule deer and a variety of birds. When Craters of the Moon and Petrified Forest National Park gained wilderness protection in 1970, they were the first National Park Service lands to be so honored.
---
Death Valley Wilderness (California)
Established 10/31/1994
Credit: Jeff Few, flickr.
More than 90 percent of Death Valley National Park is designated as wilderness, providing homes for kit foxes, desert tortoises, bighorn sheep and other wildlife. The area is especially renowned for its wide variety of birds, partly owing to a great diversity of habitat, and draws birders year-round. Other popular visitor activities in this vast expanse of desert and mountains include hiking and camping.
---
J.N. "Ding" Darling Wilderness (Florida)
Established 10/19/1976
Credit: ajburcar, flickr.
The mangrove-knotted J.N. "Ding" Darling Wilderness makes up part of a national wildlife refuge of the same name--both dubbed in honor of the Pulitzer Prize-winning editorial cartoonist and conservation advocate who founded the National Wildlife Federation. This modest pocket of nature in the Gulf of Mexico is chock full of life, including iconic Florida creatures like alligators, river otters, roseate spoonbills, pelicans, herons and egrets.
---
Joshua Tree Wilderness (California)
Established 10/20/1976
Credit: Evan Heck (NPS), flickr.
Protecting one of the most spectacular stretches of wild land anywhere in the country, Joshua Tree Wilderness now covers nearly 600,000 acres following expansion in 1994. This area is the convergent point of two major desert ecosystems: the lower, drier Colorado Desert and the cooler, wetter Mojave Desert. Along with a variety of wildlife, Joshua Tree is known as one of the best possible places to go stargazing. The broader park is suffering as a result of climate change—including its namesake—and the wilderness area is expected to help keep nature resilient, providing a refuge for species that lose habitat.
---
Mojave Wilderness (California)
Established 10/31/1994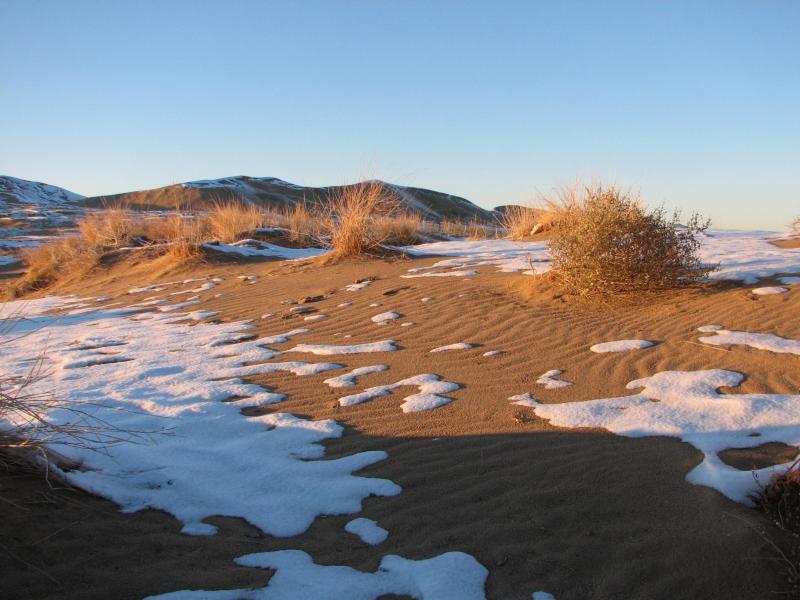 Credit: NPS.
This desert paradise covers much of the Mojave National Preserve, just to the west of California's border with Nevada. Landscape highlights in the wilderness include Cinder Cones Lava Beds (an army of inactive volcanoes) and Clark Mountain (the tallest mountain in the Mojave Desert). Living attractions include desert wildlife like golden eagles, roadrunners, desert tortoises and large lizards called chuckwallas. The Wilderness Society supports a bill called the California Desert Protection Act that would conserve additional wildlands in the Mojave Desert, including areas bridging the gap between Joshua Tree National Park and Mojave National Preserve.
---
Okefenokee Wilderness (Georgia)
Established 10/1/1974
Credit: Geoff Gallice, flickr.
Georgia's Okefenokee Wilderness, the third-largest in the continental U.S. that is administered by the U.S. Fish & Wildlife Service, overlaps almost perfectly with the wildlife refuge of the same name, helping to safeguard one of the world's largest intact freshwater ecosystems. Camping and canoeing are among the most popular recreational activities at this gem of the Southeast.
---
Pelican Island Wilderness (Florida)
Established 10/23/1970
Credit: Keenan Adams (USFWS), flickr.
Concerned that brown pelicans in Florida were being overhunted, President Theodore Roosevelt asked an aide, "Is there any law that will prevent me from declaring Pelican Island a federal bird reservation?" Told that there was not, Roosevelt, ever direct, reportedly snapped "very well, then I so declare it." Since then, Pelican Island National Wildlife Refuge has provided habitat for those eponymous birds as well as wood storks, herons, ospreys and more. The wilderness that covers nearly the entire refuge was in the first group of such areas ever protected in the state.
---
Petrified Forest National Wilderness Area (Arizona)
Established 10/23/1970
Credit: Petrified Forest (NPS), flicker.
Petrified Forest Wilderness, located within famed Petrified Forest National Park, encompasses millions of years of history, recalling a time when this area was a vast floodplain crossed by many streams. Tall, stately, pine-like trees grew here, sheltering a great variety of reptiles. When the trees fell, they washed into the water to be buried under silt, mud and volcanic ash. Groundwater seeped through the logs, bearing silica that later crystallized into quartz, which ultimately petrified the wood, giving this place its name.
---
Red Rock Lakes Wilderness (Montana)
Established 10/19/1976
Credit: Erin Clark (USFWS), flickr.
In a state with 15 wilderness areas, it isn't easy to stand out. However, Red Rock Lakes Wilderness manages to distinguish itself. Though relatively small, it features some of the most stunning land in the nation, a greater Yellowstone area wetland complex harboring fauna like trumpeter swans, elk, grizzly bears and moose. The wildlife refuge that partially overlaps with this wilderness area is considered among America's most picturesque.
---
Shenandoah Wilderness (Virginia)
Established 10/20/1976
Credit: Shenandoah National Park (NPS), flickr.
A two hour drive from the nation's capital, the nearly-80,000-acre Shenandoah Wilderness makes up roughly 40 percent of Virginia's Shenandoah National Park. The area is criss-crossed by about 175 miles of trails, and contains vital habitat for wildlife including deer, bears, bobcats, ruffed grouse, barred owls and wild turkeys. It is something of a rarity among protected wilderness, as nearly all of the park in which it is situated was once farmed, logged or otherwise developed. Thankfully, subsequent conservation efforts led to a natural renaissance, and the area has since been restored to a state resembling its former glory.
---
Steens Mountain Wilderness (Oregon)
Established 10/30/2000
Credit: Bob Wick (BLM), flickr.
A remote piece of the wild Pacific Northwest, this 170,000-acre wilderness features the largest fault block mountain in North America (a phenomenon that occurs when great pressure forces one rock mass to break away from another) and staggeringly blue lakes. Popular outdoor recreation activities in this photographer's mecca include camping, picnicking, hiking and sightseeing.